Hi forum & Tracker team,
I just came across a very important feature (actually indispensable for me
) regarding the creation of hyperlinks inside the document.
I do this all the time (in Ad*be Acr*bat) when working with long (legal) PDF documents -- meaning that almost every time I come across a text reference on (say) page 275 to a drawing that is (for example) on page 154, I quickly would create a link from that text reference to this drawing such that I can look up the drawing easily every time when I re-read the same text reference again.
So far so good. However, for defining the target of a link (in PDF-XChange Viewer), I am convinced that it would be absolutely indispensable to have ALL possibilities of moving around and finding your way in the entire document, including searching for text, clicking on thumbnails, bookmarks or existing hyperlinks, changing zoom levels, etc. pp. and so on (as it is the case with the competitor mentioned
). In other words, as good as PDF-XChange Viewer's "link target editor" below is for EDITING a link target in detail:
... it is still quite limited in terms of actually
finding your way around
in the document in the first place. For example, you can neither see nor click on thumbnails, bookmarks or hyperlinks, you can't search for text etc., as long as you are within the target editor dialog -- which however is the only way of defining the link's target of course, at present.
This means that it can take a long time to actually find the page in the document where the new link should point to, using the link target editor dialog.
Link creation however takes only seconds with Acr*bat
because it is done in the document itself
, not inside a dialog: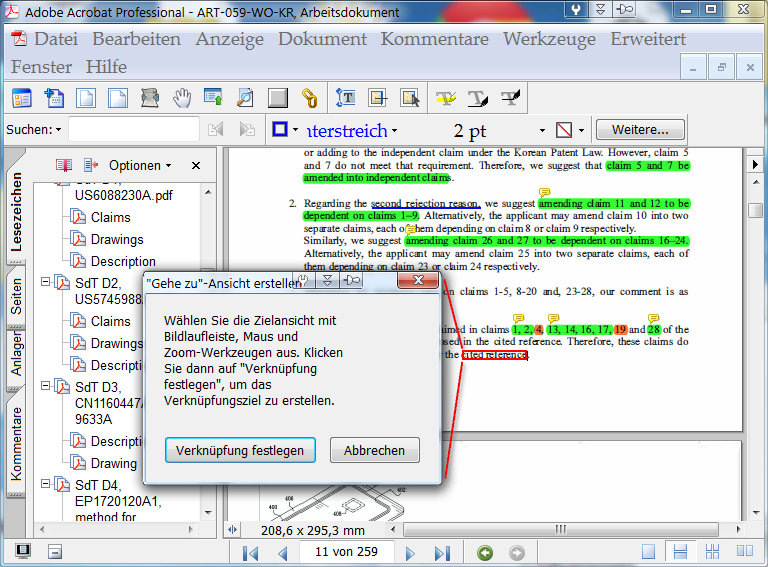 (the dialog says:
Select the links' target view using the document scroll bars, mouse and zoom tools. Then click on "specify link" to create the link target.
)
Thus, for the creation of a hyperlink's target, it would be very important in my view (
actually the absence of this feature still keeps/forces me away from doing "production work" with PDF-XChange Viewer
) -- to be able to DEFINE the link's target by simply moving around DIRECTLY in the document's window (using its full feature set like search/find, thumbnails, bookmarks, hyperlinks, highlighters, jump to last/next view etc.) -- instead of being forced to find the target page using the link target editor dialog.
Hopefully the above clarifies what I still really miss regarding the creation of hyperlinks... If not, I will be happy to go into any detail of this request any time.
Keep up the fantastic work,
Cheers David.P